Asset Protection 2016 - 2 CPE
After reading the materials, participants will be able to:1. Clear up misconceptions about and state the main reasons for asset protection, warn clients about fraudulent transfers and structure asset protection planning transfers so that they are not fr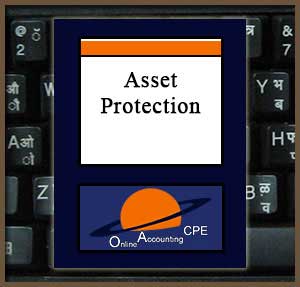 Base price with tax:
Salesprice with discount:
Discount:
Tax amount:
Price / kg:
Instant Download!
After reading the materials, participants will be able to:
1. Clear up misconceptions about and state the main reasons for asset protection, warn clients about fraudulent transfers and structure asset protection planning transfers so that they are not fraudulent, help your client with setting goals associated with undertaking asset protection measures, and explain how life insurance can be used as an asset protection vehicle.
2. Advise your clients on how the various types of entities relate to asset protection and how the various types of joint ownership of property and various trusts directly impacts asset protection and tax liability.
3. Distinguish between the concepts of common law property, community property, and equitable and which states base distribution laws on those concepts, apply asset division principles, and demonstrate a working knowledge of premarital and post-nuptial agreements and how they can be used to advise clients on individual asset protection