Estate Planning with Business Issues - 2 CPE Credit Hours
After reading the materials, participants will be able to:1. Describe the unlimited marital deduction, its effect on the gross es-tate evaluation and the impact of stepped-up basis as they affect survi-vors and heirs. Summarize the benefits of establish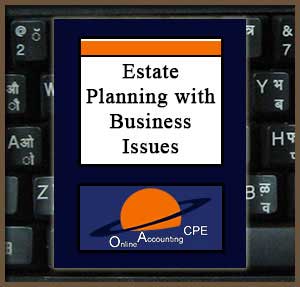 Base price with tax:
Salesprice with discount:
Discount:
Tax amount:
Price / kg:
After reading the materials, participants will be able to:
1. Describe the unlimited marital deduction, its effect on the gross estate evaluation and the impact of stepped-up basis as they affect survivors and heirs. Summarize the benefits of establishing even a simple will and its control over certain assets.
2. Discuss the primary ways to dispose of assets using trusts and annuities specifying the importance of family documents to manage assets.
3. Identify the starting point used to value a business's tangible assets, continue by reviewing the R.R. 59-60 business valuation factors and listing the four steps in R.R. 68-609's valuation formula for intangible assets and goodwill noting the effect of both rulings on the total value of a business. Then, analyze the adjustment caused by minority interests in a closely held business and their impact on final evaluation.
4. Illustrate how to use the various ways to dispose of business interest before death to family members while avoiding the provisions of the constructive ownership rules.
5. Analyze deferred compensation agreements as a valuable estate planning tool and identify when to recommend the option of paying federal estate taxes in installments indicating the basis of the election and its eligibility requirements