Estate Tools and Trusts 2013 - 2 CPE Credit Hours
After reading the materials, participants will be able to: 1. Identify the key participants and their roles in a coordinated estate plan and explain probate process including trust administration; 2. Compare and contrast specialized estate planning tool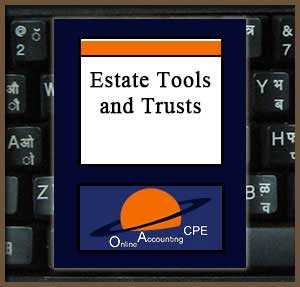 Base price with tax:
Salesprice with discount:
Discount:
Tax amount:
Price / kg:
Everyone needs to do estate planning. It is more than just planning for death. Estate planning is designing a program for effective wealth building, preservation, and disposition of property at the minimum possible tax cost. This exceptional mini-course surveys wills, living trusts, gifts, marital property, and probate avoidance. Designed to eliminate estate problems and death taxes, the emphasis is on practical solutions that are cost effective. The text reviews and explains both federal gift and estate tax systems giving practice pointers and planning observations.
Completion Deadline & Exam: This course, including the examination, must be completed within one year of the date of purchase. In addition, unless otherwise indicated, no correct or incorrect feedback for any exam question will be provided.
Course Level: Overview. This program is appropriate for professionals at all organizational levels.
Learning Assignment & Objectives
As a result of studying the assigned materials, you should be able to meet the objectives listed below.
ASSIGNMENT
At the start of the materials, participants should identify the following topics for study:
* Build, preserve & distribute
* Legal documents
* Estate planning team
* Estate administration
* Estate planning techniques & devices
* Trusts
Learning Objectives
After reading the materials, participants will be able to:
1. Identify the key participants and their roles in a coordinated estate plan and explain probate process including trust administration;
2. Compare and contrast specialized estate planning tools emphasizing the use of trusts and demonstrating how such tools save death taxes and transfer wealth while accentuating asset control;
3. Summarize recommended trust provisions and requirements pointing out how these terms and rules impact estate and trust taxation.
After studying the materials, answer the exam questions 1 to 10.