Estate Tools and Trusts - 2 CPE Credit Hours
After reading the materials, participants will be able to:1. Identify the key participants and their roles in a coordinated estate plan and explain probate process including trust administration;2. Compare and contrast specialized estate planning tool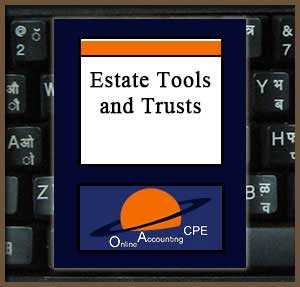 Base price with tax:
Salesprice with discount:
Discount:
Tax amount:
Price / kg:
After reading the materials, participants will be able to:
1. Identify the key participants and their roles in a coordinated estate plan and explain probate process including trust administration;
2. Compare and contrast specialized estate planning tools emphasizing the use of trusts and demonstrating how such tools save death taxes and transfer wealth while accentuating asset control;
3. Summarize recommended trust provisions and requirements pointing out how these terms and rules impact estate and trust taxation.