Family Tax Planning 2016 - 2 CPE
After reading the materials, participants will be able to:1. Describe the effect of marital status on filing status, determined the advisability of filing a joint return enlight of the innocent spouse rules, list available exemptions, and differentiate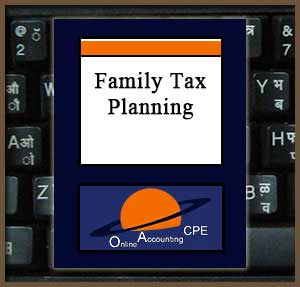 Base price with tax:
Salesprice with discount:
Discount:
Tax amount:
Price / kg:
After reading the materials, participants will be able to:
1. Describe the effect of marital status on filing status, determined the advisability of filing a joint return enlight of the innocent spouse rules, list available exemptions, and differentiate between deductible and nondeductible divorce costs
2. Clarify the costs and fees that qualify for the tax credit for adoption expenses and for education credits, such as the HOPE credit, identify the requirements for dependent care assistance, and explain to clients the contribution limits for Coverdell ESAs
3. Point out the medical cost deductions available to clients and discuss with them home mortgage interest and moving expense deductions, and explain the taxation of interspousal transfers, including §1041 transfers and property settlements.