Fast-Track Retirement Planning 2016 - 3 CPE
After reading the materials, participants will be able to:1. Summarize the basic guidelines of retirement planning, including the ten misconceptions of retirement, and define retirement based on three key questions. 2. Determine retirement costs and i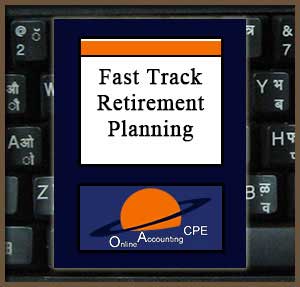 Base price with tax:
Salesprice with discount:
Discount:
Tax amount:
Price / kg:
Instant Download!
After reading the materials, participants will be able to:
1. Summarizethe basic guidelines of retirement planning, including the ten misconceptions of retirement, and define retirement based on three key questions.
2. Determine retirement costs and income needs of clients based on their current budget, apply tax savings strategies, and exercise six basic guidelines when purchasing assets to attain financial independence.
3. Explain what workers need to qualify for Social Security retirement benefits and for Social Security disability benefits, calculate clients' retirement benefits, and distinguish Medicare Part A from Medicare Part B.
4. Classify basic types of qualified corporate plans, and describe other sources of retirement income such as SIMPLE plans and individual retirement accounts.
5. Illustrate the difference between annuity payments and lump-sum distributions, outline key components of rollovers, premature distributions and required distributions, and explain nonqualified deferred compensation.
6. Cite the benefits, uses and types of life insurance, and incorporate into practice three basic estate planning tools.