American Recovery Act of 2009 - 4 CPE Credit Hours
After reading the materials, participants will able to: 1. Analyze and apply the individual tax provisions of the American Recovery and Reinvestment Act of 2009 ("Act") by: a. Determining and claiming the "Making Work Pay' tax credit, the economic reco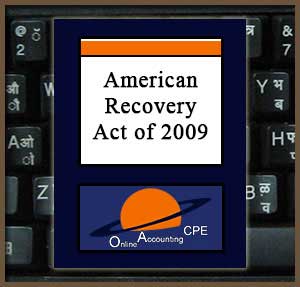 Base price with tax:
Salesprice with discount:
Discount:
Tax amount:
Price / kg:
Years have passed since the American Recovery and Reinvestment Act of 2009 was enacted. While the Act was a major piece of tax legislation with continuing and current impact, readers are cautioned that the following text was written in the spring of 2009 and is now somewhat historical and is now a legislative research tool. As a result, readers should be alert for subsequent developments, expirations, and repeals.
Level: Basic
Prerequisites: None
Recommended Credits: 4 CPE Hours
Advanced Preperation: None
Delivery Method: Self Study
Learning Objectives
After reading the materials, participants will able to:
1. Recognize the individual tax provisions of the American Recovery and Reinvestment Act of 2009 ("Act") by:
Identifying the "Making Work Pay' tax credit, the economic recovery payment to Social Security and SSI recipients and the EITC;
Citing Act modifications to the 2008 Stabilization Act child tax credit provisions, the Hope credit (renamed the American Opportunity tax credit), tuition saving accounts, the homebuyer tax credit and the low-income housing tax credit; and
Determining how to account for and compute 2009 unemployment compensation taxation, allowable qualified motor vehicle deductions, and 2009 individual AMT exemption amounts.
2. Identify the business tax provisions of the American Recovery and Reinvestment Act of 2009 ("Act") by:
Citing changes to the bonus depreciation provision (§168(k)), listing dollar caps for vehicles, and identifying a special election for corporations;
Recognizing extended §179 expensing, revised net operating loss provisions; estimated tax payments for small businesses, category additions to the work opportunity credit, and employer-provided transit and vanpool benefits under the Act;
Determining the impact of Congress's legislative response to Notice 2008-83, the new cancellation of indebtedness income election, the §1202 small business stock percentage exclusion, the reduced holding period for §1374 assets and the new markets tax credit; and
Recognizing the new COBRA requirements, delayed implementation 3% government contractor withholding and the expanded definition of industrial development bonds.
3. Identify the energy provisions of the American Recovery and Reinvestment Act of 2009 ("Act") by:
Specifying the tax benefits, limitations, and requirements of credits for energy property (specifically including solar electric and water heating property), alternative fuel refueling property, electric drive motor vehicles, renewable energy production, and advanced energy manufacturing projects.
Determining when an investment tax credit can be taken in lieu of the production tax credit; and
Locating the differences between prior law and the Act's expanded program for clean renewable energy bonds and qualified energy conservation bonds.