Business Travel and Entertainment 2016 - 2 CPE Credit Hours
After reading the materials, participants will be able to: 1. Identify the away from home requirement listing eligible deductions, distinguish transportation and travel expenses contrasting the caselaw and IRS test for tax home and compare temporary vers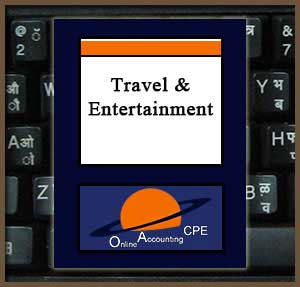 Base price with tax:
Salesprice with discount:
Discount:
Tax amount:
Price / kg:
Instant Download!
After reading the materials, participants will be able to:
1. Identify the away from home requirement listing eligible deductions, distinguish transportation and travel expenses contrasting the caselaw and IRS test for tax home and compare temporary versus indefinite work assignments demonstrating their affect on a tax home.
2. Summarize the business purpose requirement emphasizing the 51/49 percent test, discuss deductible conventions and meetings, and specify the limitations applied to meals and lodging when traveling to insure client compliance.
3. Define business entertainment applying the deductibility tests of §162 and identify business entertainment activity deduction restrictions to avoid later disallowance.
4. Explain deduction limitations including the percentage reduction for meals and entertainment expenses, list miscellaneous itemized business deductions and expenses associated with an entertainment facility, and describe employee expense reimbursement and reporting options including available federal per diem rates while noting the special treatment given to self-employed persons.