Divorce Transfers & Settlements 2016 - 2 CPE
After reading the materials, participants will be able to:1. Inform clients on the various forms of marital property and how to proceed with a tax structured property settlement pointing out the benefits of premarital agreements to avoid potential divor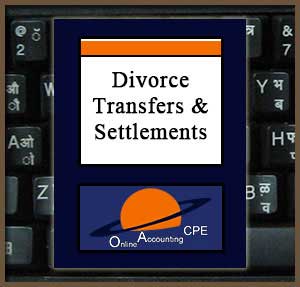 Base price with tax:
Salesprice with discount:
Discount:
Tax amount:
Price / kg:
After reading the materials, participants will be able to:
1. Inform clients on the various forms of marital property and how to proceed with a tax structured property settlement pointing out the benefits of premarital agreements to avoid potential divorce problems.
2. Demonstrate a working knowledge of property settlements under §1041 by explaining:
a. its application to interspousal and third party transfers,
b. the factors that determine whether or not a property transfer is incident to divorce under §1041,
c. property basis for the transferor and transferee spouse under §1041.
3. Discuss and suggest remedies for the deferred tax pitfall of §1041 by:
a. describing the deferred tax liability of interspousal purchases,
b. explaining the tax deferral of §1031 exchanges,
c. listing the key elements of the home sale exclusion and how to apply it;
d. pointing out benefit distribution problems and the tax advantages of QDROs.