Education Tax Benefits 2016 - 2 CPE
After reading the materials, participants will be able to:1. Distinguish qualifying education from nonqualifying education un-der §162 and thereby determine which work-related expenses can be deducted.2. Point out the differences between the HOPE ("Am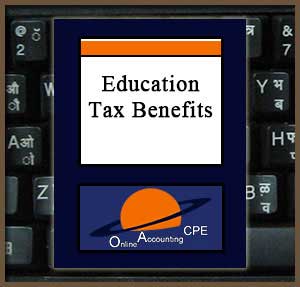 Base price with tax:
Salesprice with discount:
Discount:
Tax amount:
Price / kg:
Instant Download!
After reading the materials, participants will be able to:
1. Distinguish qualifying education from nonqualifying education under §162 and thereby determine which work-related expenses can be deducted.
2. Point out the differences between the HOPE ("American Opportunity") Credit and the Lifetime Learning Credit, what costs and fees are covered by each credit, and explain to clients the requirements of Coverdell education savings accounts and the tax deferral benefits of such accounts.
3. Discuss how to claim deductions for student loan interest under §221 including when the cancellation of such a loan can be excluded from income under the §108(f) and explain the importance of employer-provided educational assistance particularly the advantages it offers to employees.
4. List the tax-free benefits of scholarships and fellowships and their affect on income and identify who is eligible for the qualified tuition deduction and under what circumstances the deduction can be used.
5. Explain to clients how educational incentives and financial aid resources may be useful for financial planning.