2010 Health Care Act - 2 CPE Credit Hours
After reading the materials, participants will be able to:1. Summarize the structural provisions of the Patient Protection and Affordable Care Act (PPAC) as they relate to essential health benefits and levels of coverage and explain how the responsibili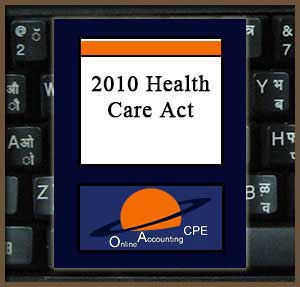 Base price with tax:
Salesprice with discount:
Discount:
Tax amount:
Price / kg:
Instant Download!
After reading the materials, participants will be able to:
1. Summarize the structural provisions of the Patient Protection and Affordable Care Act (PPAC) as they relate to essential health benefits and levels of coverage and explain how the responsibility requirement to maintain minimum essential coverage under PPAC impacts individuals and who would be exempt from these requirements;
2. Explain how the provisions of PPAC affect individuals by:
a. Distinguishing between the types of premium assistance subsidies and credits available to individuals; and
b. Outlining the tax consequences of PPAC for individuals as relates to itemized deductions, the hospital insurance tax, withdrawal penalties from HSAs, and loan repayment tax relief for health professionals.
3. Explain how the provisions of PPAC affect businesses by:
a. Describing the requirements informing employer mandates and the resulting penalties associated with failure to provide adequate coverage;
b. Identifying the various fees and taxes imposed under PPAC and the credits and subsidies available to help small businesses pay for health insurance; and
c. Prioritizing the application of the major provisions of PPAC for affected taxpayers by summarizing the implementation timetable.
Level: Basic Prerequisites: None
Advanced Preperation: None Delivery Method: Self Study