Partnership Taxation 2016 - 2 CPE Credit Hours
After reading the chapter, participants will be able to: 1. Explain the tax treatment of partnerships listing advantages and disadvantages and demonstrating their affect on income attribution. 2. Calculate and report partnership income by: a. Identify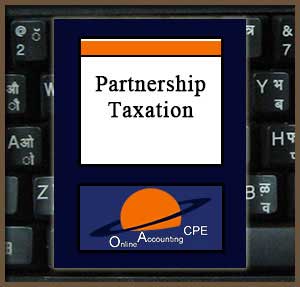 Base price with tax:
Salesprice with discount:
Discount:
Tax amount:
Price / kg:
The mini-course will examine tax issues relating to the formation and operation of partnerships. Participants will gain a familiarity with basic areas of partnership taxation so as to recognize a problem and have at hand some practical knowledge for its solution.
Completion Deadline & Exam: This course, including the examination, must be completed within one year of the date of purchase. In addition, unless otherwise indicated, no correct or incorrect feedback for any exam question will be provided.
Course Level: Overview. This program is appropriate for professionals at all organizational levels.
Field of Study: Taxes
Prerequisite: General understanding of federal income taxation.
Recommended Credits: 2 CPE Hours
Advanced Preparation: None
Learning Assignment & Objectives
As a result of studying the assigned materials, you should be able to meet the objectives listed below.
ASSIGNMENT
At the start of the materials, participants should identify the following topics for study:
* Partnership definition
* Partnership income
* Partnership tax return
* Year taxable
* Transactions between partner & partnership
* Contributions to partnerships
* Sales & exchanges of partnership interests
* Partnership distributions
* Partnership liquidations
* Limited liability companies
Learning Objectives
After reading the chapter, participants will be able to:
1. Recognize the tax treatment of partnerships noting advantages and disadvantages and their affect on income attribution.
2. Determine partnership income and reporting requirements by:
a. Identifying filing requirements and the impact partnership K-1's on individual or partner taxation; and
b. Specifying loss deduction limitations and stating the tax treatment of guaranteed payments, organizational expenses and other fees.
3. Identify the tax treatment of contributions of property to a partnership under §721 and the impact on tax basis.
4. Recognize the tax treatment of partnership distributions and sale of partnership interests by:
a. Identifying the tax treatment of partner liabilities and of sales and exchanges of partnership interests and property; and
b. Determining the differences between liquidating and nonliquidating payments including definition of a partner's basis on such an event.
After studying the materials, answer the exam questions 1 to 10.