Partnership Taxation 2016 - 2 CPE
After reading the chapter, participants will be able to:1. Explain the tax treatment of partnerships listing advantages and dis-advantages and demonstrating their affect on income attribution.2. Calculate and report partnership income by:a. Identify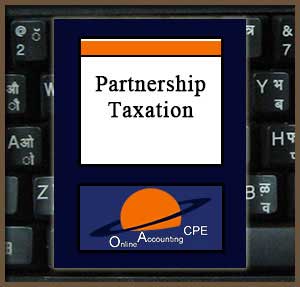 Base price with tax:
Salesprice with discount:
Discount:
Tax amount:
Price / kg:
After reading the chapter, participants will be able to:
1. Explain the tax treatment of partnerships listing advantages and disadvantages and demonstrating their affect on income attribution.
2. Calculate and report partnership income by:
a. Identifying filing requirements and the impact partnership K-1's on individual or partner taxation; and
b. Specifying loss deduction limitations and explaining the tax treatment of guaranteed payments, organizational expenses and other fees.
3. Analyze the tax treatment of contributions of property to a partnership under §721 and describe the impact on tax basis.
4. Determine the tax treatment of partnership distributions and sale of partnership interests by:
a. Explaining the tax treatment of partner liabilities and of sales and exchanges of partnership interests and property; and
b. Distinguishing between liquidating and nonliquidating payments including determination of a partner's basis on such an event.