Property Dispositions 2016 - 2 CPE
After reading the materials, participants will be able to:1. Match capital gains rates to applicable assets using the "basket" ap-proach, identify the requirements of the home sale exclusion, and cal-culate gain using the installment method pointing out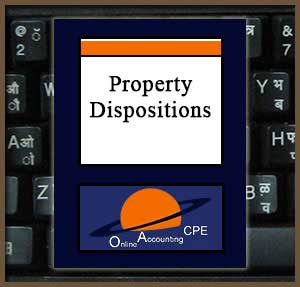 Base price with tax:
Salesprice with discount:
Discount:
Tax amount:
Price / kg:
After reading the materials, participants will be able to:
1. Match capital gains rates to applicable assets using the "basket" approach, identify the requirements of the home sale exclusion, and calculate gain using the installment method pointing out the application of the unstated interest rules.
2. List the types of property that qualify for a like-kind exchange and describe the methods of identifying such property in a delayed exchange explaining the procedural mechanics of such an exchange.
3. Distinguish between recourse and nonrecourse indebtedness describing their impact on foreclosures, explain how various types of property affect the repossession rules of §1038 including basis and gain or loss for both installment and non-installment method sales.
4. Demonstrate how easements affect condemnations, explain to clients how to report gain or loss associated with involuntary conversions, list the types of payments included in a condemnation award, and name the types of entities that qualify for exclusion from at-risk limits distinguishing recourse and nonrecourse financing.