Tax Analysis of Investments Using the Internet 2016 - 2 CPE
After reading the materials, participants will be able to:1. Contrast investment goals with purposes and implement the distinc-tion in client financial plans by: a. Assessing the impact of inflation and taxes (versus tax free) on an investment's rate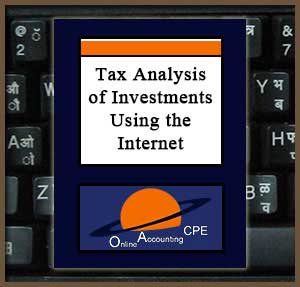 Base price with tax:
Salesprice with discount:
Discount:
Tax amount:
Price / kg:
Instant Download!
After reading the materials, participants will be able to:
1. Contrast investment goals with purposes and implement the distinction in client financial plans by:
a. Assessing the impact of inflation and taxes (versus tax free) on an investment's rate of return,
b. Identifying methods of cash management and budgeting emphasizing the role of savings in wealth creation, and
c. Comparing corporate and self-employed retirement plans explaining their cost, operation, and application to client needs.
2. List the key financial planning elements in the acquisition and management of investments and name the forms of physical and financial assets pointing out their investment characteristics; and
3. Identify and compare active and passive investment strategies citing situations where they might meet client financial objectives.