Tax Analysis of Investments Using the Internet 2016 - 2 CPE Credit Hours
After reading the materials, participants will be able to: 1. Contrast investment goals with purposes and implement the distinction in client financial plans by: a. Assessing the impact of inflation and taxes (versus tax free) on an investment's rate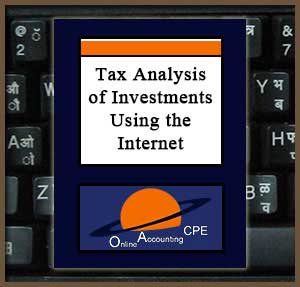 Base price with tax:
Salesprice with discount:
Discount:
Tax amount:
Price / kg:
Instant Download!
Taxes aren't taxes - they are dollars in terms of the net return on investment. All tax professionals need to know the tax-economics of investing for themselves and their clients. The tax professional is in a special position to detect a client's need for financial planning. Preparing returns discloses assets, savings, business entities, and family members.
This mini-course explores and analyzes the basic concepts of cash management, budgeting, savings, investment goals and asset selection using a variety of tools found on the Internet. The rapid rise of the Internet as a broad-based and effective investment tool accentuates the practitioner's need for Internet familiarity.
Completion Deadline & Exam: This course, including the examination, must be completed within one year of the date of purchase. In addition, unless otherwise indicated, no correct or incorrect feedback for any exam question will be provided.
Course Level: Overview. This program is appropriate for professionals at all organizational levels.
Field of Study: Taxes
Prerequisite: General understanding of federal income taxation.
Recommended Credits: 2 CPE Hours
Advanced Preparation: None
Learning Assignment & Objectives
As a result of studying the assigned materials, you should be able to meet the objectives listed below.
ASSIGNMENT
At the start of the materials, participants should identify the following topics for study:
* Financial planning
* Investment goals & purposes
* Implementing the financial plan
* Acquisition
* Managing assets
* Physical assets
* Stocks & bonds
* Mutual funds & life insurance
* Active investment strategies
* Passive investment strategies
Learning Objectives
After reading the materials, participants will be able to:
1. Identify investment goals and purposes noting their differences by:
a. Specifying the impact of inflation and taxes (versus tax free) on an investment's rate of return,
b. Determining methods of cash management and budgeting noting the role of savings in wealth creation, and
c. Recognizing corporate and self-employed retirement plans stating their cost, operation, and application to client needs.
2. Specifying the key financial planning elements in the acquisition and management of investments and identify forms of physical and financial assets noting their investment characteristics; and
3. Recognize active and passive investment strategies specifying situations where they might meet client financial objectives.
After studying the materials, answer the exam questions 1 to 10.