Tax and Financial Problems - 3 CPE Credit Hours
After reading the materials, participants will be able to:1. Identify the three most common types of bankruptcy filings and re-lated provisions that impact individual or business filings.2. Advise clients regarding marital property transfers, asset pr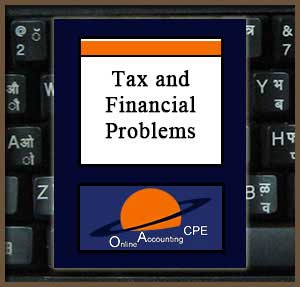 Base price with tax:
Salesprice with discount:
Discount:
Tax amount:
Price / kg:
After reading the materials, participants will be able to:
1. Identify the three most common types of bankruptcy filings and related provisions that impact individual or business filings.
2. Advise clients regarding marital property transfers, asset protection strategies including insurance and organization structures to achieve protection and access objectives while avoiding fraudulent transfers.
3. Recognize medical costs and casualty and theft losses that may be deductible.
4. Explain debt cancellation, foreclosure and the deductibility and reporting of bad debts.
5. Specify elderly, disability and estate planning programs and provisions to be considered for catastrophic and death planning purposes.