Tax Relief Act of 2010 - 4 CPE Credit Hours
After reading the materials, participants will able to:1. Explain the TRUIRJCA changes to individual tax rates, marriage penalty relief, alternative minimum tax relief, tax rates for dividend in-come and capital gain, the adoption credit, employer-provi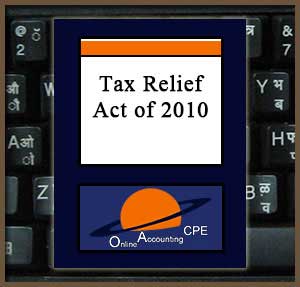 Base price with tax:
Salesprice with discount:
Discount:
Tax amount:
Price / kg:
Instant Download!
After reading the materials, participants will able to:
1. Explain the TRUIRJCA changes to individual tax rates, marriage penalty relief, alternative minimum tax relief, tax rates for dividend income and capital gain, the adoption credit, employer-provided child care credit, and tuition credit.
2. List extended and enhanced credits & deductions for teachers, state and local sales taxes, educational expenses, research, and wages, pointing out their timing and usage.
3. Summarize the TRUIRJCA business provisions, in particular those on depreciation of leasehold improvements, bonus depreciation, payroll taxes, expensing, and environmental remediation costs.
4. Differentiate selected contributions, including conservation, inventory, charitable IRA contributions and contributions for transit and parking.
5. Analyze the major impact of TRUIRJCA on estate, gift, and generation-skipping transfer taxes, and spousal portability, listing several planning consequences.