Tax Relief Act of 2010 - 4 CPE Credit Hours
After reading the materials, participants will able to: 1. Explain the TRUIRJCA changes to individual tax rates, marriage penalty relief, alternative minimum tax relief, tax rates for dividend income and capital gain, the adoption credit, employer-provi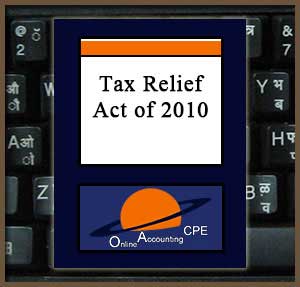 Base price with tax:
Salesprice with discount:
Discount:
Tax amount:
Price / kg:
Instant Download!
This course examines and explains the major tax provisions of the Tax Relief, Unemployment Insurance Reauthorization, and Job Creation Act of 2010 ("TRUIRJCA"). The focus is on individual tax rates, marriage penalty relief, family and child incentives, alternative minimum tax relief, and in particular estate planning changes imposed by TRUIRJCA. The course examines how the TRUIRJCA shapes other key tax laws as pertains to various available deductions and credits, dividends and capital gains, depreciation, expensing, and charitable contributions. Finally, the course will highlight the major impact of the TRUIRJCA on estate, gift, and generation-skipping transfer taxes. Participants will be able to help clients navigate these changes and learn how TRUIRJCA affects them in particular.
Completion Deadline & Exam: This course, including the examination, must be completed within one year of the date of purchase. In addition, unless otherwise indicated, no correct or incorrect feedback for any exam question will be provided.
Course Level: Overview. This program is appropriate for professionals at all organizational levels. (4 Credits)
Prerequisite: None
Recommended Credits: 4 CPE Hours
Learning Assignment & Objectives
As a result of studying the assigned materials, you should be able to meet the objectives listed below.
ASSIGNMENT
At the start of the materials, participants should identify the following topics for study:
* Extension of Individual Income Tax & Dividend Rates
* Continuation of Educational & Energy Benefits
* Implementation of Family & Child Incentives
* Extension of AMT Patch for Individuals
* Extension of Bonus Depreciation & Other Business Provisions
* New Estate & Charitable Planning Provisions
Learning Objectives
After reading the materials, participants will able to:
1. Explain the TRUIRJCA changes to individual tax rates, marriage penalty relief, alternative minimum tax relief, tax rates for dividend income and capital gain, the adoption credit, employer-provided child care credit, and tuition credit.
2. List extended and enhanced credits & deductions for teachers, state and local sales taxes, educational expenses, research, and wages, pointing out their timing and usage.
3. Summarize the TRUIRJCA business provisions, in particular those on depreciation of leasehold improvements, bonus depreciation, payroll taxes, expensing, and environmental remediation costs.
4. Differentiate selected contributions, including conservation, inventory, charitable IRA contributions and contributions for transit and parking.
5. Analyze the major impact of TRUIRJCA on estate, gift, and generation-skipping transfer taxes, and spousal portability, listing several planning consequences.
After studying the materials, answer the exam questions 1 to 20.