Matching Investments to Tax Saving Techniques - 16 CPE
Everyone needs to do financial and investment planning. Whether a person is a business owner or an employee, young or retired, wealthy or poor, they should plan for their financial independence. As Teddy Roosevelt said, "The duty of every citizen is to be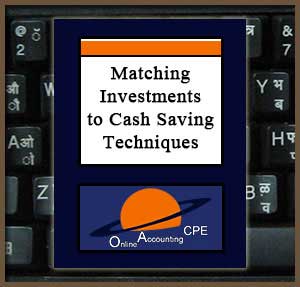 Base price with tax:
Salesprice with discount:
Discount:
Tax amount:
Price / kg:
Instant Download!
Everyone needs to do financial and investment planning. Whether a person is a business owner or an employee, young or retired, wealthy or poor, they should plan for their financial independence. As Teddy Roosevelt said, "The duty of every citizen is to be self-sufficient." Financial planning is for everyone.
Financial planning is designing a program for effective wealth building, preservation, and disposition of property at the minimum possible tax cost. This process is much more than just "investing." It is a commitment to yourself, your family, your goals, and your community.