Tax, Bankruptcy and Financial Problems - 24 CPE Credit Hours
The Bankruptcy Abuse Prevention and Consumer Protection Act of 2005 became effective October 17, 2005 and was enacted "to provide curbs to perceived bankruptcy abuses," The prior Bankruptcy Code, enacted in 1979, had been debated for a number of years and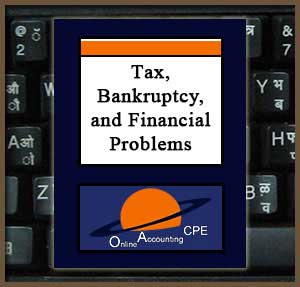 Base price with tax:
Salesprice with discount:
Discount:
Tax amount:
Price / kg:
Instant Download!
The Bankruptcy Abuse Prevention and Consumer Protection Act of 2005 became effective October 17, 2005 and was enacted "to provide curbs to perceived bankruptcy abuses," The prior Bankruptcy Code, enacted in 1979, had been debated for a number of years and Congress was slow to adopt the 2005 Act changes.
While there are few tax law changes, a number of changes to bankruptcy procedure and qualification have been enacted. The 2005 Act sets up an income-based test for measuring a debtor's ability to repay debts. Under this test, debtors who make more than the state's median income and can pay more than $6,000 over five years are required to file bankruptcy under a Chapter 13 wage earner plan. Debtors with insufficient assets or income can still file a Chapter 7 bankruptcy.