Tax Research on the Internet 2016 - 16 CPE Credit Hours
While use of the Internet has grown tremendously, tax research on the Internet is still evolving from the vacuum tube stage. There's great potential but a long way to go before the Internet can be fully utilized. In some areas, it's not ready to compete f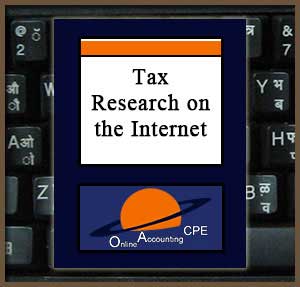 Base price with tax:
Salesprice with discount:
Discount:
Tax amount:
Price / kg:
Instant Download!
While use of the Internet has grown tremendously, tax research on the Internet is still evolving from the vacuum tube stage. There's great potential but a long way to go before the Internet can be fully utilized. In some areas, it's not ready to compete fully with commercial on-line services like Lexis/Nexis and Westlaw or with compact disk (CD-Rom) products. In fact, some critics firmly believe that the Internet will never be a complete replacement for traditional paper research sources.
Still, tax and legal researchers can find plenty of good information for free and often updated daily on the Internet. In addition, quick and efficient access to fee-based services can be obtained through the Internet (e.g., Tax Base by Tax Analysts).