2011-2012 Easy Update - 3 CPE Credit Hours
After reading the materials, participants will be able to:1. Discuss the various issues related to individual income taxes by list-ing the income tax rates for the various tax brackets, quoting the AMT phaseout limits and contribution limits to HSAs, an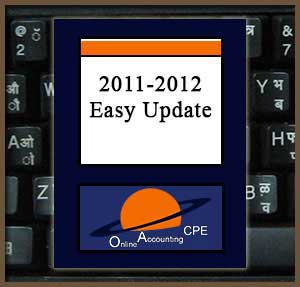 Base price with tax:
Salesprice with discount:
Discount:
Tax amount:
Price / kg:
Instant Download!
After reading the materials, participants will be able to:
1. Discuss the various issues related to individual income taxes by listing the income tax rates for the various tax brackets, quoting the AMT phaseout limits and contribution limits to HSAs, and explaining how the various individual income tax credits work, including education and energy credits.
2. Identify and discuss the key business tax issues, including bonus depreciation, expensing, the NOL carryback period, standard mileage rates, work opportunity credit, and recent changes affecting S corporations.
3. Differentiate between the various retirement plans, including contribution limits and phaseout limits, and review estate taxes by citing trust income tax rates and explaining how to calculate interest on estate tax installments