Sarbanes Oxley for Dummies - 20 CPE Credit Hours
NOT AN ONLINE COURSE! NOT TEXAS COMPLIANT. PLEASE SEE DETAILS. Accountants, lawyers, business owners, and corporate managers of all kinds are currently dealing with the biggest change in corporate governance since the 1930s. As full implementation of the Sarbanes-Oxley Act gets under way-bringing large changes in cor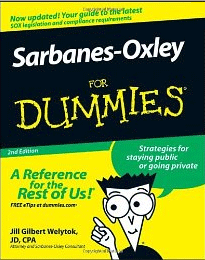 Base price with tax:
Salesprice with discount:
Discount:
Tax amount:
Price / kg:
Instant Download!
This is a physical book course, the default price includes the test only! NOT TEXAS COMPLIANT.
Select (ship a book) above and pay us to order one for you.

Borrow one from a local library (they can be awesome that way!)

Buy one from another vendor of your choosing
The EXACT book you want is:
Sarbanes-Oxley for Dummies
0470223138
The fun and easy way to comply with the law and maintain your credibility
Need to be Sarbanes-Oxley savvy? This plain-English guide walks you through the new and revised laws — as well as compliance strategies for changed and unchanged guidelines — and gives you an effective framework for implementation. You'll create an efficient audit committee, purchase and use SOX software solutions, and make practical, cost-effective decisions in your initial compliance year and beyond.
Discover how to:
Establish SOX standards for IT professionals

Minimize compliance costs in every area of your company

Survive a Section 404 audit

Avoid litigation under SOX

Anticipate future rules and trends