The Real Estate Game - 20 CPE Credit Hours
NOT AN ONLINE COURSE! NOT TEXAS COMPLIANT. PLEASE SEE DETAILS. This course lays out the rules of real estate, including identification of the key players and periods of play: concept, commitment, development, operation, reward, and reinvestment. Readers are taught to be "value investors," ready to buy at the right price at the right time.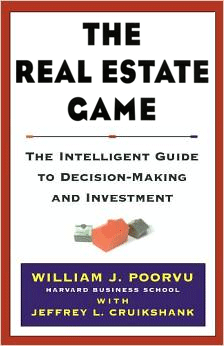 Base price with tax:
Salesprice with discount:
Discount:
Tax amount:
Price / kg:
This is a physical book course, the default price includes the test only! NOT TEXAS COMPLIANT.
We do NOT have a license for book downloads. If you do not have a copy of the book you can either:
Select (ship a book) above and pay us to order one for you.

Borrow one from a local library (they can be awesome that way!)

Buy one from another vendor of your choosing
The EXACT book you want is:
The Real Estate Game
068485550X
The Real Estate Game is a comprehensive guide to successful real estate investment from one of the masters in the field. Drawing upon four decades of experience developing, owning, and managing properties and on almost thirty years of teaching at the Harvard Business School, William J. Poorvu offers an insider's perspective on how to make smart decisions about real estate.

The real estate "game" is played by people, and it's the stories of real people that make Poorvu's introduction to the industry colorful and interesting. You will meet players ranging from real estate moguls to small-scale developers to individual investors in exotic investment instruments. Their stories evolve throughout the book and illustrate how these people—with all their complicated needs, talents, and motives—fit into the larger process and context.

In clear and nontechnical language, Poorvu explains how variables—players, properties, capital markets, and the external environment—come together to influence the shape and outcome of a real estate deal. He explains the time frame for different kinds of real estate investments and walks the reader through the key "periods of play" in the real estate game: concept, commitment, development, operation, reward, and reinvestment.

The Real Estate Game introduces a simple but powerful "back-of-the-envelope" technique for analyzing the financial implications of a potential deal. Using this tool and others, Poorvu shows readers how to use direct investments, syndicates, and REITs to get into the real estate game across a broad range of property types: residential, office, hotel, industrial, and retail.

Offering unique insight into the ways that developers and investors can create value, The Real Estate Game is both a perfect introduction for the novice and an invaluable overview for the experienced professional.