Divorce and Money - 20 CPE Credit Hours
NOT AN ONLINE COURSE! NOT TEXAS COMPLIANT. PLEASE SEE DETAILS. When you're going through divorce, you have to make an overwhelming number of financial decisions. Should you sell the house? What happens to retirement benefits? How will you handle taxes? Full of sensitive and practical advice, Divorce and Money gui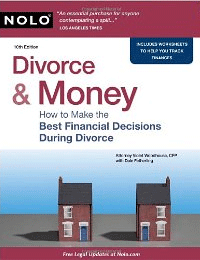 Base price with tax:
Salesprice with discount:
Discount:
Tax amount:
Price / kg:
This is a physical book course, the default price includes the test only! NOT TEXAS COMPLIANT.
We do NOT have a license for book downloads. If you do not have a copy of the book you can either:
Select (ship a book) above and pay us to order one for you.

Borrow one from a local library (they can be awesome that way!)

Buy one from another vendor of your choosing
The EXACT book you want is:
Divorce & Money
1413313140
Divorcing? Get everything you need to split assets and debts as fairly as possible.

When you're going through divorce, you have to make an overwhelming number of financial decisions. Should you sell the house? What happens to retirement benefits? How will you handle taxes?

Full of sensitive and practical advice, Divorce & Money guides you through the process of making these important, and sometimes life-altering decisions. It covers how to:


decide whether to keep or sell the house
protect yourself against misuse of joint accounts and credit cards
avoid tax problems
handle alimony and child support
divide debts fairly
avoid hasty decisions that could hurt you financially
reduce risks to your investments
understand how a court evaluates assets
gain financial stability as a single person
This edition provides the latest tax figures and data, plus new information on dealing with credit problems, bankruptcy, foreclosure, and the other varied effects of divorcing in a down economy.