Stand up to the IRS - 20 CPE Credit Hours
NOT AN ONLINE COURSE! NOT TEXAS COMPLIANT. PLEASE SEE DETAILS. The Internal Revenue Service is the taxpayer's worst nightmare, and for good reason -- a tax bill or other notice can come out of nowhere and wreak havoc on your life. But now you can confront America's most intimidating government agency with confide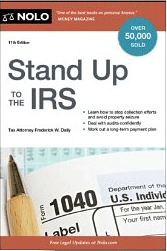 Base price with tax:
Salesprice with discount:
Discount:
Tax amount:
Price / kg:
Instant Download!
This is a physical book course, the default price includes the test only! NOT TEXAS COMPLIANT.
We do NOT have a license for book downloads. If you do not have a copy of the book you can either:
Select (ship a book) above and pay us to order one for you.

Click here to order a Kindle copy from Amazon (BEST PRICE!)

Borrow one from a local library (they can be awesome that way!)

Buy one from another vendor of your choosing
The EXACT book you want is:
Stand Up to the IRS
1413313280
The Internal Revenue Service is the taxpayer's worst nightmare, and for good reason -- a tax bill or other notice can come out of nowhere and wreak havoc on your life.
But now you can confront America's most intimidating government agency with confidence. Stand Up to the IRS reveals the tactics used by IRS and how to deal with them. This book even contains confidential forms used by IRS agents during collection interviews and audits.
Use Stand Up to the IRS to:
file a late return
work out a long-term payment plan
get a Taxpayer Assistance Order
settle your tax bill for pennies on the dollar
stop collection efforts
avoid property seizures
determine if bankruptcy offers a solution learn what to say when you face an auditor
appeal the auditor's decision
The 10th edition is completely updated with the latest rules, regulations and tax numbers. Plus, Stand Up to the IRS also shows you how to go to Tax Court, if it's ever needed.