Guide to IFRS Policies & Procedures - 10 CPE Credit Hours
NOT AN ONLINE COURSE! NOT TEXAS COMPLIANT. PLEASE SEE DETAILS. Presented in a question and answer format, The Vest Pocket IFRS provides a brief explanation of each IFRS topic, the issues involved, and the solution. Coverage includes calculations, journal entries, flowcharts outlining various options, footnotes disclosures, and brief examples.

•Provides quick answers to specific questions in a Q & A format
•Focuses on the most common accounting problems arising from a particular IFRS topic
•Calculations, footnotes disclosures, and brief examples are provided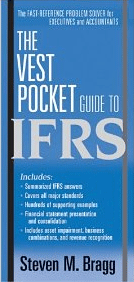 Base price with tax:
Salesprice with discount:
Discount:
Tax amount:
Price / kg:
Instant Download!
This is a physical book course, the default price includes the test only! NOT TEXAS COMPLIANT.
We do NOT have a license for book downloads. If you do not have a copy of the book you can either:
Select (ship a book) above and pay us to order one for you.

Borrow one from a local library (they can be awesome that way!)

Buy one from another vendor of your choosing
The EXACT book you want is:
The Vest Pocket Guide to IFRS
0470619473
Get quick answers to all your IFRS questions
Presenting a question-and-answer format for the most common accounting problems arising from specific IFRS topics, The Vest Pocket Guide to IFRS provides complete, easy-to-navigate coverage of all International Financial Reporting Standards (IFRSs) with concise explanations and hundreds of supporting examples.
This reliable reference tool goes anywhere you go—to a client's office, on a business trip, or to an important lunch meeting, with on-the-spot answers to questions such as:
What are the thresholds for segment reporting?
How do I restate financial results in a hyperinflationary economy?
How do I recognize intangible assets?
What is a provision, and when do I recognize it?
How do I account for a business combination?
How do I determine an entity's functional currency, and how do I report transactions in that currency?
And much more!
Packed with practical techniques and rules of thumb for understanding the day-to-day IFRS issues every accountant, controller, or CFO is sure to face, The Vest Pocket Guide to IFRSis the handy pocket problem-solver that gives you the helpful information you want right now, in the quick-reference format you need.