Fraud Auditing and Detection: The Financial Numbers Game - 20 CPE Credit Hours
NOT AN ONLINE COURSE! NOT TEXAS COMPLIANT. PLEASE SEE DETAILS. To hide falling profits, some managers ply the flexibility found in accounting principles to alter their financial reports. Others go further and use fraud in their deception. It is vitally important that investors, analysts, and other users of financial statements detect these creative accounting practices as early as possible in order to avoid negative earnings surprises and potential share-price declines. The Financial Numbers Game identifies the steps businesses may take to misstate financial performance and helps its readers to identify those situations where reported results may not be what they seem.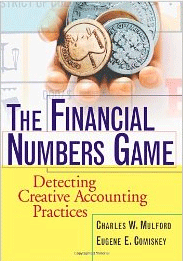 Base price with tax:
Salesprice with discount:
Discount:
Tax amount:
Price / kg:
Instant Download!
This is a physical book course, the default price includes the test only! NOT TEXAS COMPLIANT.
We do NOT have a license for book downloads. If you do not have a copy of the book you can either:
Select (ship a book) above and pay us to order one for you.

Borrow one from a local library (they can be awesome that way!)

Buy one from another vendor of your choosing
The EXACT book you want is:
The Financial Numbers Game
0471770736
To hide falling profits, some managers play the flexibility found in accounting principles to alter their financial reports. Others go further and use fraud in their deception. It is vitally important that investors, analysts, and other users of financial statements detect these creative accounting practices as early as possible in order to avoid negative earnings surprises and potential share-price declines. The Financial Numbers Game presents an expert analysis of creative accounting procedures, as well as:
Real-world examples of aggressive and fraudulent financial reports
What signs to look for in detecting earnings manipulation
Ready-made checklists for detecting accounting misdeeds
Advice from such experts as analysts, CFOs, and CPAs

Help for anyone interested in understanding true financial performance The Financial Numbers Game offers all users of financial statements a comprehensive resource for understanding, detecting, and avoiding the vast assortment of creative accounting techniques found in practice today.
Program Objective: The student will be able to identify the steps businesses may take to misstate financial performance and helps the students to identify those situations where reported results may not be what they seem