Policies and Procedures to Prevent Fraud and Embezzlement - 20 CPE Credit Hours
NOT AN ONLINE COURSE! NOT TEXAS COMPLIANT. PLEASE SEE DETAILS.
To hide falling profits, some managers play the flexibility found in accounting principles to alter their financial reports. Others go further and use fraud in their deception. It is vitally important that investors, analysts, and other users of financial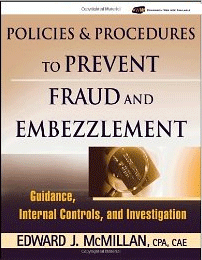 Base price with tax:
Salesprice with discount:
Discount:
Tax amount:
Price / kg:
Instant Download!
This is a physical book course, the default price includes the test only! NOT TEXAS COMPLIANT.
We do NOT have a license for book downloads. If you do not have a copy of the book you can either:
Select (ship a book) above and pay us to order one for you.

Borrow one from a local library (they can be awesome that way!)

Buy one from another vendor of your choosing
The EXACT book you want is:
Policies and Procedures to Prevent Fraud and Embezzlement
0471790036
IS YOUR BUSINESS VULNERABLE TO FRAUD?
It's not a secret that corporate fraud and scandal are real threats to business today, from which no business, large or small, is immune. Fraud losses are devastating—but they are also highly avoidable. Policies & Procedures to Prevent Fraud and Embezzlement shows you how to proactively safeguard your business's assets and reputation from countless plots, schemes, and even identity theft.
This invaluable tool prepares auditing CPAs, internal auditors, fraud investigators, and managers to:
Thoroughly evaluate their organization's system of internal controls
Assemble a fraud examination team
Document a fraud action plan
Expose weaknesses that could lead to fraud
Take corrective action to reduce the possibility of victimization
Embezzlement and fraud are realities that all organizations must confront, with the growing list of collapsed corporate giants serving as evidence of the destruction caused by financial abuses. Policies & Procedures to Prevent Fraud and Embezzlement offers provocative new strategies to deal with this ongoing dilemma and serves as a road map to reduce financial dishonesty in the workplace.