Auditors Guide to Information Systems Auditing - 40 CPE Credit Hours
NOT AN ONLINE COURSE! NOT TEXAS COMPLIANT. PLEASE SEE DETAILS. This book is designed for those who need to gain a working knowledge of the risks and control opportunities within an IT environment, and the auditing of that environment. The emphasis of this book is on both the principles and techniques as well as the p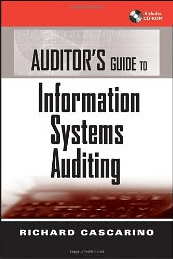 Base price with tax:
Salesprice with discount:
Discount:
Tax amount:
Price / kg:
Instant Download!
This is a physical book course, the default price includes the test only! NOT TEXAS COMPLIANT.
We do NOT have a license for book downloads. If you do not have a copy of the book you can either:
Select (ship a book) above and pay us to order one for you.

Borrow one from a local library (they can be awesome that way!)

Buy one from another vendor of your choosing
The EXACT book you want is:
Auditor's Guide to Information Systems Auditing
0470009896
It has become impossible for today's enterprises of any size and in any market sector to exist without computers to assist with their fundamental business operations. The modern auditor, therefore, requires significantly more knowledge of computers and computer auditing than did auditors of earlier years. In order for organizations to take full advantage of the opportunities that computers can offer, their systems must be controlled and dependable.
Written for those who need to gain apractical working knowledge of the risks and control opportunities within an information processing (IP) environment, as well as the auditing of that environment, Auditor's Guide to Information Systems Auditing includes a complementary student's version of the IDEA Data Analysis Software CD and is particularly useful for professionals andstudents within the fields of:
IT security
IT audit
Internal audit
External audit
Management information systems
General business management
Emphasizing the practical implementation of principles and techniques through the use of realistic case studies, Auditor's Guide to Information Systems Auditing follows the approach used by the Information System Audit and Control Association's modelcurriculum and is an excellent study guide for those preparing for the CISA and CISM exams.
This invaluable reference manual is filled with relevant information helpful to those accountable to management for the successful implementation and control of information systems and covers a wide range of topics, serving as an indispensable introductory reference to IT auditing.