8 Ways to Avoid Probate - 20 CPE Credit Hours
NOT AN ONLINE COURSE! NOT TEXAS COMPLIANT. PLEASE SEE DETAILS. Probate can drag on for years, and can easily cost your family thousands of dollars -- money that would otherwise have gone to them. 8 Ways to Avoid Probate offers simple but effective methods to skip the entire process -- plus real-world examples of how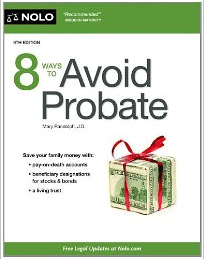 Base price with tax:
Salesprice with discount:
Discount:
Tax amount:
Price / kg:
Instant Download!
This is a physical book course, the default price includes the test only!

NOT TEXAS COMPLIANT.
We do NOT have a license for book downloads. If you do not have a copy of the book you can either:
Select (ship a book) above and pay us to order one for you.

Click here to order a

Kindle copy from Amazon (Best Price!)
Borrow one from a local library (they can be awesome that way!)
Buy one from another vendor of your choosing
The EXACT book you want is:
8 Ways to Avoid Probate
1413317103
Probate can drag on for years, and can easily cost your family thousands of dollars -- money that would otherwise have gone to them. 8 Ways to Avoid Probate offers simple but effective methods to skip the entire process -- plus real-world examples of how others have used them.
In the end, you'll understand:
• payable-on-death accounts
• naming beneficiaries
• special procedures for small estates
• using joint ownership of property
• creating a living trust
• making gifts of property and money
• The 6th edition provides the latest estate and gift tax rules, and now includes a ninth method: Using transfer-on-death deeds to pass on real estate.
• And more