Behavioral Ethics: An Overview for All Accountants - 2 CPE Credit Hours
In this course, we will define ethics and provide you with reasons you should be encouraged to continue educating yourself with the goal of achieving the highest standards of ethical conduct.
The course will then discuss ethical reasoning and its application to common dilemmas that you may experience.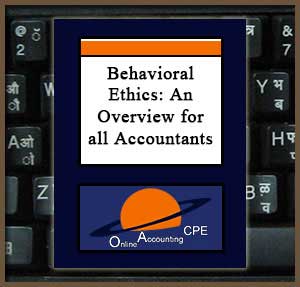 Base price with tax:
Salesprice with discount:
Discount:
Tax amount:
Price / kg:
Instant Download!
Delivery Method: Online Interactive Self Study
Level: Overview
Prerequisites: None
Recommended Credits: 2 CPE Hours
Advanced Preparation: None
Author: Colleen Neuharth McClain
Category: Behavioral Ethics
Subject Area:
Passing Score: 70%
Publication Date: 08/20/12


Objectives:
Explain the purpose of studying ethics and be excited about the opportunity to improve your ethical reasoning abilities.
Explain the process of ethical reasoning and how to apply it when specific dilemmas occur.
List the core values of the CPA profession (integrity, objectivity and independence).
Discuss the case studies which are presented throughout the course to assist you in maintaining the highest standards of ethical conduct.