CFO Attributes - 2 CPE Credit Hours
The complexities of financial regulations and accounting pronouncements and the impact of global competition present businesses and executives with a demanding environment. Along with the necessary technical financial experience that a Chief Financial Officer (CFO) must possess, many other skills and attributes are required to address the challenges of the role. This course will discuss many key skills and attributes that contribute to the success of CFOs.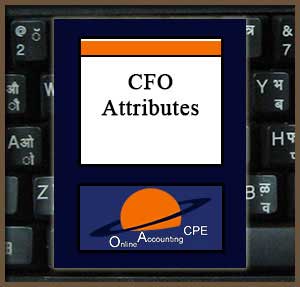 Base price with tax:
Salesprice with discount:
Discount:
Tax amount:
Price / kg:
Instant Download!
Delivery Method: Online Interactive Self Study
Level: Overview
Prerequisites: None
Recommended Credits: 2 CPE Hours
Advanced Preparation: None
Author: Colleen Neuharth McClain
Category: Business Management
Subject Area:
Passing Score: 70%
Publication Date: 04/03/2012
Objectives:
Understand the importance of leadership and the positive actions that exhibit leadership.
Assess your personal and organizational integrity.
Recognize other skills in addition to financial reporting expertise that contribute to success.
Consider and take steps to improve self-confidence.
Understand the significance of emotional intelligence and its impact on business success.