Employment Taxes - 2 CPE Credit Hours
This course will detail the federal employment tax requirements and responsibility that employers have for filing returns and making tax payments on a timely basis. Although requirements also apply in most states for income tax withholding and unemployment taxes, state obligations are not covered in this course.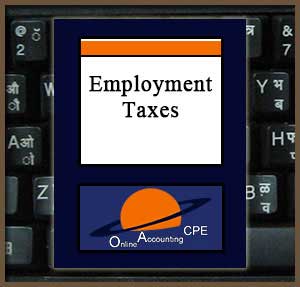 Base price with tax:
Salesprice with discount:
Discount:
Tax amount:
Price / kg:
Instant Download!
Delivery Method: Online Interactive Self Study
Level: Overview
Prerequisites: None
Recommended Credits: 2 CPE Hours
Advanced Preparation: None
Author: Colleen Neuharth McClain
Category: Taxation
Subject Area:
Passing Score: 70%
Publication Date: 06/19/2012
Objectives:
Recognize the funding sources for the federal government.
Understand an employer's income and employment tax withholding and reporting requirements.
Understand the consequences and penalties for non-compliance with requirements.
Assess whether internal controls are adequate to ensure compliance with tax withholding and reporting requirements.
Recognize improper employment tax evasion schemes.
Understand the potential penalties and implications of willful evasion of employment tax requirements.