2 FREE CPE Credit Hours - The Detection and Prevention of Fraud in Financial Statements: Corporate Fraud Case Studies Part 1 & 2
FREE ACCOUNTING CPE! We offer one course for free. Add this to your cart and at checkout select the "give it to me free!" payment option to enjoy this course for free!

This course will recap several actual cases of corporate fraud as presented by the Federal Bureau of Investigations (FBI) and U.S. Department of Justice (DOJ).

In addition, you will be introduced to an organization known as the Fraud Deterrence Initiative and have the opportunity to read the story of an actual corporate fraud criminal who is now in jail and awaiting his sentencing.

The purpose of this course is to educate you through the presentation of the crimes of others in the hopes that their stories will provide you with additional insight in how you can prevent crime from occurring in your workplace or those of your clients.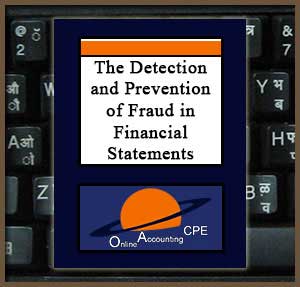 Rating: 5/5

Base price with tax:
Salesprice with discount:
Discount:
Tax amount:
Price / kg:
Instant Download!
Delivery Method: Online Interactive Self Study
Level: Overview
Prerequisites: None
Recommended Credits: 2 CPE Hours
Advanced Preparation: None
Author: Colleen Neuharth McClain
Category: Auditing
Subject Area:
Passing Score: 70%
Publication Date: 01/02/2013
Objectives:
Learn about the Fraud Deterrence Initiate and its founder.
Understand the various corporate fraud cases which the FBI is currently prosecuting.
Comprehend the facts regarding several cases in which the Department of Justice has worked to put a stop to corporate fraud.