IFRS and US GAAP: An Update on Convergence, the SEC's Reports, and Other Activities - 2 CPE Credit Hours
This course will review the significant events that have occurred to achieve the goal of a common set of global accounting standards. The accomplishments and challenges that have occurred and status of the convergence efforts will be examined.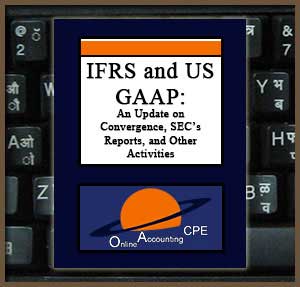 Base price with tax:
Salesprice with discount:
Discount:
Tax amount:
Price / kg:
Instant Download!
Delivery Method: Online Interactive Self Study
Level: Overview
Prerequisites: None
Recommended Credits: 2 CPE Hours
Advanced Preparation: None
Author: Colleen Neuharth McClain
Category: Accounting
Subject Area:
Passing Score: 70%
Publication Date: 03/14/2013
Objectives:
Understand the history of the IFRS Foundation.
Identify the significant events and activities of the IASB and FASB related to the international convergence of accounting standards.
Be familiar with key SEC reports issued related to IFRS.
Recognize the current issues and challenges related to convergence and future activities related to IFRS.