Bankruptcy Tax Issues 2016 - 2 CPE
After reading the materials, participants will be able to:1. Analyze the 2005 Bankruptcy Act by identifying changes to bank-ruptcy procedures and qualifications comparing the three most com-mon types of bankruptcy filings and select the appropriate bank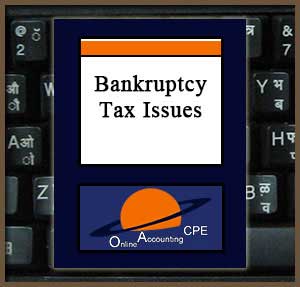 Base price with tax:
Salesprice with discount:
Discount:
Tax amount:
Price / kg:
Instant Download!
After reading the materials, participants will be able to:
1. Analyze the 2005 Bankruptcy Act by identifying changes to bankruptcy procedures and qualifications comparing the three most common types of bankruptcy filings and select the appropriate bankruptcy filing using a debtor's status as an individual or business and their ability to pay off creditors.
2. Explain the scope of the automatic stay, the recoupment preferential transfers, and the priority of creditor claims categorizing dischargeable and nondischargeable debts based on bankruptcy filing.
3. Outline the creation of a separate individual bankruptcy estate determining its taxable income, appropriate deductions, and special tax year elections and contrast individual with partnership and corporate bankruptcy comparing filing bankruptcy requirements, debt discharge and asset liquidations including reorganizations.
4. Describe the purpose of homestead laws and available homestead types including the degree of homeowner protection afforded and identify the special rules, terms, and application of garnishment laws