Family Tax Planning 2018 - 24 CPE Credit Hours
When someone is going through the trauma of a divorce they often do not realize that there are severe tax implications when making decisions such as: (1) When to separate, (2) When to file for the divorce, (3) How to handle child support and alimony,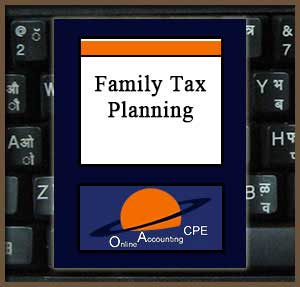 Base price with tax:
Salesprice with discount:
Discount:
Tax amount:
Price / kg:
While the nuclear family remains the center point of society, today it is under tremendous economic and social pressure. This course is designed to cover "hot" topics having a direct impact on the practitioner who represents any client with family issues. The emphasis is on using tax solutions to ease family economic concerns permitting the practitioner to be a real tax hero.
Completion Deadline & Exam: This course, including the examination, must be completed within one year of the date of purchase. In addition, unless otherwise indicated, no correct or incorrect feedback for any exam question will be provided.
Course Level: Overview. This program is appropriate for professionals at all organizational levels.
Field of Study: Taxes
Recommended Credits: 24 CPE Hours
Prerequisite: General understanding of federal income taxation.
Advanced Preparation: None
Learning Assignments & Objectives
As a result of studying each assignment, you should be able to meet the objectives listed below each assignment.
ASSIGNMENT SUBJECT
Chapter 1 Basic Marital Tax Matters
At the start of Chapter 1, participants should identify the following topics for study:
* Marital status
* Joint return
* Separate returns
* Head of household
* Exemptions
* Divorce costs
* Withholding & estimated tax
* Community property states
* Ending the community
* Living together
Learning Objectives
After reading Chapter 1, participants will be able to:
1. Show how filing status affects taxpayers' filing requirements, standard deductions, and correct tax by:
a. Listing six severe divorce tax implications and clarifying the requirements and effects of filing as married or unmarried;
b. Identifying the requirements of filing a joint return and how to avoid being penalized;
c. Naming the key elements of filing separate returns including what items to report and recognizing whether or not married taxpayers should file separate returns; and
d. Defining the requirements for filing as head of household and listing the tax advantages and disadvantages of this filing status.
2. List the number of exemptions a client has and state the impact said exemptions will have by:
a. Recognizing the phaseout of exemptions showing its tax impact on taxpayers, identifying when exemptions can be taken for spouses, and defining reporting requirements for dependent exemptions;
b. Listing the requirements for pre-2005 dependency particularly relationship, married person, citizen or resident, and income;
c. Identifying the former regular and special method for determining support showing complications from back child support and multiple support agreements;
d. Defining the current "qualified child" standard using residency, relationship, age, and joint return prohibition; and
e. Naming three requirements that must be met for parents to treat a child as a qualifying child of a non-custodial parent.
3. Show the differences between deductible and nondeductible divorce expenditures, identify which spouse is subject to tax imposed upon withheld wages, and state the effects of making separate estimated tax payments or joint declarations of estimated tax.
4. Recognize the special rules that apply to community property states and identify whether clients are affected by these rules by:
a. Defining community property listing the nine community property states and listing the effects of conversion and commingling of property including how to avoid such issues;
b. Identifying community income earned by married couples by:
i. Stating three reporting guidelines, showing how to separating income earned and received into community property and separate property and recognizing what income and property belongs to which spouse when they have different residency statuses;
ii. Listing five requirements for the special community income allocation rules of §66(a) and defining community property termination and the treatment of alimony payments; and
iii. Stating importance of former statements and records to provide estimates of a former spouse's income and identifying four conditions for greater tax relief.
5. Recognize the effect of living together on filing statuses and dependency noting differences between the married tax rate and other tax rates, state the tax consequences of having a living together contract noting tax traps, and list four results of Marvin v. Marvin.
After studying the materials in Chapter 1, answer the exam questions 1 to 10.
ASSIGNMENT SUBJECT
Chapter 2 Children
At the start of Chapter 2, participants should identify the following topics for study:
* Child tax credit
* Income earned by children
* Unearned income of children under 18
* Adoption credit
* Child or dependent care credit
* Qualifying person
* Keeping up a home
* Employment related expenses
* Allowable amount & reporting
* Dependent care assistance
Learning Objectives
After reading Chapter 2, participants will be able to:
1. Define the child tax credit identifying the requirements for qualifying child and identify the tax treatment of earned and unearned income for children.
2. State the elements of the adoption tax credit noting qualifying costs and fees, list nine tests for the §21 dependent care credit and outline qualifications for §129 dependent care assistance.
After studying the materials in Chapter 2, answer the exam questions 11 to 14.
ASSIGNMENT SUBJECT
Chapter 3 Education
At the start of Chapter 3, participants should identify the following topics for study:
* Work-related educational expenses
* Educational expense credits
* Education savings accounts
* Deduction for student loan interest
* Qualified tuition programs
* Higher education expense deduction
* IRA withdrawals for education expenses
* Scholarships & fellowships
* Educational savings bonds
* Educational incentives & financial aid
Learning Objectives
After reading Chapter 3, participants will be able to:
1. Show the differences between qualifying §162 deductible and nonqualifying education and define two education expense credits under §25A noting what costs and fees are covered by each.
2. List the benefits and requirements of the §530 education savings accounts, identify the deductible portion of student loan interest payments and state the §108 exclusion for the forgiveness of certain student loans.
3. Recognize the mechanics and requirements of available educational benefits by:
a. Identifying the benefits of prepaying or contributing to a student's education and showing how taxpayers may deduct higher education expenses;
b. Stating the tax consequence of withdrawing amounts from an IRA for education expenses under §72(t) and naming the advantages §127 employer-provided educational assistance offers to employees; and
c. Listing the differences between §117 tax-free scholarships and fellowships payments and those that are taxable and identifying which education savings bonds qualify for the §135 exclusion of interest from gross income.
4. Recognize educational incentives and financial aid available to students and parents and identify where changes may be necessary in financial planning.
After studying the materials in Chapter 3, answer the exam questions 15 to 23.
ASSIGNMENT SUBJECT
Chapter 4 Medical, Charitable & Casualty
At the start of Chapter 4, participants should identify the following topics for study:
* Medical costs
* Medical deductions
* Health savings accounts
* Accelerated death benefits
* Charitable contributions of cash
* Charitable contributions of property
* Subst