Essential Legal Concepts with Tax Analysis 2018 - 40 CPE Credit Hours
Conventional asset protection is not hiding assets, defrauding creditors or evading income taxes. Asset protection is the positioning of assets to make them unattractive and legally unreachable by creditors, but available for financial goals and needs.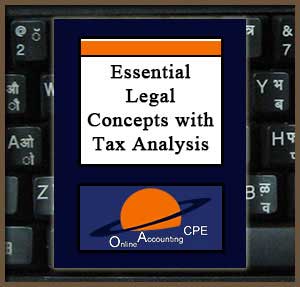 Base price with tax:
Salesprice with discount:
Discount:
Tax amount:
Price / kg:
While accounting and the practice of law are separate professions, the accountant must be conversant with essential legal concepts. Modern accounting practice requires familiarity with corporate legal structure, business entities, partnership operations, contracts, property rights, employment law, divorce, consumer protection, will & trusts, and even bankruptcy law. This course explores these specific areas with emphasis on business and accounting issues. This informal and clear guide to the basic concepts of business law provides accountants with an excellent review of legal concepts that arise in any tax professional's practice. The attendees will gain the ability to recognize and discuss general legal concepts with both client and their counsel.
Knowledge is power and nowhere is that truer than in the field law. To gain such a working knowledge of law, readily understandable explanations are given to essential and related business law subjects. The accountant is guided through the complex maze of literally hundreds of legal principles from acceptance to zoning.
Completion Deadline & Exam: This course, including the examination, must be completed within one year of the date of purchase. In addition, unless otherwise indicated, no correct or incorrect feedback for any exam question will be provided.
Course Level: Overview. This program is appropriate for professionals at all organizational levels.
Field of Study: Taxes
Prerequisite: General understanding of federal income taxation.
Recommended Credits: 40 CPE Hours
Advanced Preparation: None
Learning Assignments & Objectives
As a result of studying each assignment, you should be able to meet the objectives listed below each assignment.
ASSIGNMENT SUBJECT
Chapter 1 Asset Protection
At the start of Chapter 1, participants should identify the following topics for study:
* Need for asset protection
* Types of creditors
* Fraudulent transfers
* Preparation for asset protection
* Types of insurance
* Buy-sell agreements
* Individual ownership and corporate ownership
* Asset protection aspects of trusts
* Co-tenancy and partnerships
* Divorce
Learning Objectives
After reading Chapter 1, participants will be able to:
1. Show the goals and purposes of asset protection and identify the objections some people have about shielding assets from creditors by:
a. Listing at least six reasons for asset protection and identifying sixteen situations that can unexpectedly put assets and financial security at stake;
b. Naming eighteen common sources of lawsuits and stating the author's concept of exploding and imploding liability; and
c. Defining asset protection using the primary concepts of insurance, asset placement and statutory protections.
2. Recognize the importance of the three types of creditors associated with asset protection and fraudulent transfers.
3. Outline the fraudulent transfer laws listing several badges of fraud, identify statute of limitations and criminal penalties, and recognize permissible asset transfers.
4. Identify the degree and necessity of asset protection by defining net worth using a balance sheet, locating asset values, and using a balance sheet. Recognize the various ways that insurance and buy-sell agreements can offer asset protection.
5. Name the asset protection advantages and disadvantages of ownership formats and entities by:
a. Stating the use of individual ownership and corporate ownership in an asset protection plan and including the importance of S corporations and their estate tax planning advantages;
b. Identifying testamentary trusts, living trusts and at least eight subcategories of trusts pointing out asset protection elements;
c. Listing the various types of co-tenancy showing their asset protection dangers, defining several types of partnerships including limited liability companies; and
d. Stating the unique asset protection qualities of retirement plans, custodianship, and estates as asset protection tools.
After studying the materials in Chapter 1, answer the exam questions 1 to 18.
ASSIGNMENT SUBJECT
Chapter 2 Alimony & Child Support
At the start of Chapter 2, participants should identify the following topics for study:
* Divorce or separation instrument
* Alimony requirements of instruments executed after 1984
* Alimony requirements of instruments executed before 1984
* Deducting alimony paid & reporting alimony received
* Recapture of alimony for types A & B agreements
* Alimony substitution trusts & annuities
* Alimony paid by estate
* Child support
* COBRA coverage
* Qualified medical child support orders
Learning Objectives
After reading Chapter 2, participants will be able to:
1. Define "alimony" and "separate maintenance payments" under §§71 and 215.
2. Name three types of "divorce or separation instruments" under §71(b)(2) and state how having an invalid decree, an amended instrument or a premarital agreement influences such an instrument.
3. Show the differences between the alimony and child support tax provisions that currently apply and those that applied to instruments executed prior to 1985 by:
a. Listing seven variables that impact whether a payment is alimony since 1984 and determining whether a cash payment is deemed made to or on behalf of a former spouse in order to characterize it as alimony;
b. Outlining the tax treatment of housing costs for the family residence showing the impact of ownership when the nonoccupying spouse owns the home and when the occupying spouse owns the home;
c. Identifying what rent or resident cost payments can be alimony when a family residence is jointly owned and occupied by a spouse or a taxpayer is required to make rent payments for a spouse;
d. Recognizing the tax treatment of life insurance premium payments, voluntary payments and payments to a remarried spouse noting advantages and disadvantages to each spouse;
e. Stating how to recharacterize otherwise deductible alimony payments as nondeductible, identify whether spouses are members of different households, and define the alimony pitfall of being required to make payments after a former spouse's death;
f. Showing the differences between child support and alimony and thereby avoid reporting errors;
g. Listing the three pre-1985 alimony requirements, defining periodic payments and identify whether certain payments would have qualified under these rules; and
h. Recognizing the marital or familial relationship and showing the similarities and differences in the treatment of child support under current law and previous law.
4. Show how to deduct alimony paid and report alimony received on the proper forms and lines and include required information when filing.
5. Identify the alimony recapture rule for various marital agreements and its impact on the tax treatment of past payments.
6. Illustrate the use of alimony trusts to realize tax advantage and security, identify the use of annuity contracts, and state the proper tax treatment of alimony paid by an estate to a former spouse of a decedent.
7. Recognize the tax treatment of child support, name two circumstances where a payment will be fixed as child support, and list six events that determine whether a contingency is clearly child-related showing how to rebut this presumption of child support.
8. State the COBRA and qualified medical child support order rules so as to maximize the use of health care coverage plans by:
a. Identifying whether COBRA rules apply to different plans including notice & deadline requirements and listing four situations that may result in a termination of continuing coverage; and
b. Defining "qualified medical child support orders" comparing them to other similar orders and listing the procedures, requirements and jurisdiction of QMCSOs.
After studying the materials in Chapter 2, answer the exam questions 19 to 41.
ASSIGNMENT SUBJECT
Chapter 3 Bankruptcy
At the start of Chapter 3, participants should identify the following topics for study:
* Tax law changes
* Bankruptcy types
* Automatic stay
* Preferences
* Priorities
* Debt discharge
* Individual bankruptcy estate
* Individual debtor
* Corporate bankruptcy
* Homesteading & garnishment
Learning Objectives
After reading Chapter 3, participants will be able to:
1. Recognize the Bankruptcy Abuse Prevention and Consumer Protection Act of 2005 showing how it changed the procedures, qualification