Assets Income and Cash 2018 - 18 CPE Credit Hours
The objective of this material is simple - to present a unified, consistent and understandable explanation of financial planning. Unified in that it integrates federaltaxation with financial planning. Consistent because of its synthesis of themajor f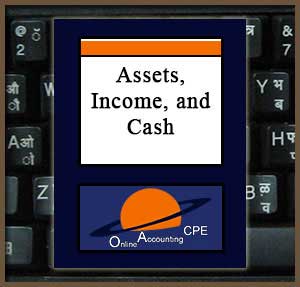 Base price with tax:
Salesprice with discount:
Discount:
Tax amount:
Price / kg:
This presentation integrates federal taxation with overall financial planning. The course will explore tax strategies relating to the central financial tactics of wealth building, capital preservation, and estate distribution. The result is a unified explanation of tax-economics that will permit the tax professional to locate, analyze, and solve financial concerns. Designed to improve the quality of services to clients and the profitability of engagements, this program projects the accountant into the world of financial planning. This course will give the participant practice in analyzing problems, developing solutions, and presenting final personal financial plans to clients. The emphasis is on practical simplicity in dealing with the self-employed and highly compensated individual.
Completion Deadline & Exam: This course, including the examination, must be completed within one year of the date of purchase. In addition, unless otherwise indicated, no correct or incorrect feedback for any exam question will be provided.
Course Level: Overview. This program is appropriate for professionals at all organizational levels.
Field of Study: Taxes
Prerequisite: General understanding of federal income taxation.
Recommended Credits: 18 CPE Hours
Advanced Preparation: None
Learning Assignments & Objectives
As a result of studying each assignment, you should be able to meet the objectives listed below each assignment.
ASSIGNMENT SUBJECT
Chapter 1 Financial Tax Planning
At the start of Chapter 1, participants should identify the following topics for study:
* Goals v. purposes
* Investment purposes
* Myths of retirement
* Investment goals
* Investment needs of five critical decades
* Investment vehicles & entities
* Retirement - the ultimate objective
* Retirement costs & income needs
* Retirement plan development
* Basic planning elements
Learning Objectives
After reading Chapter 1, participants will able to:
1. Match short-term financial goals with the four generic investment purposes stating the planning purpose of this process, recognize the importance of defining, listing and prioritizing realistic goals, and show how investing allocation changes with age.
2. Identify the tax consequences of title holding methods by:
a. Listing nine basic ways to hold title to assets starting with the simplest and most direct way to hold property;
b. Naming the tax benefits and drawbacks of co-tenancies, corporations (both C & S), partnerships, qualified retirement plans, and trusts particularly as they relate to a client's after-tax investment return; and
c. Defining custodianship describing the two uniform acts and stating how an estate can be tax beneficial to taxpayers.
3. Recognize the postponement of retirement planning noting the importance of early planning using the author's suggested five step process, define a balance sheet method to plan retirement, show how to diversify portfolios by balancing liquid and nonliquid assets, and state the purpose of savings naming ten strategies to save.
After studying the materials in Chapter 1, answer the exam questions 1 to 10.
ASSIGNMENT SUBJECT
Chapter 2 Building an Estate
At the start of Chapter 2, participants should identify the following topics for study:
* Types of income
* Information reporting on taxable income
* Rules of budgeting
* Cash
* Acquisition
* Assets
* Rules of management
* Managing risk
* Taxes
* Leverage
Learning Objectives
After reading Chapter 2, participants will able to:
1. Name three goals of money management listing four types of income, identify three causes of increased taxable income for itemizing taxpayers, and state at least eight types of taxable income and their proper reporting.
2. Show the distinctions between tax-free municipal bonds and fringe benefits in generating tax-free income, name two benefits of tax deferral, and identify at least one tax-deferred investment permitting taxpayers to better invest for retirement.
3. List several ways to shelter income noting how income sheltering amplifies investment return.
4. Recognize the budgeting of income into cash by containing expenditures with the author's six step process and developing discretionary income using four important variables, identify a client's negative outlook on budgeting and counter with five strategies, show how to convert income into assets by purchasing investments, and list six important asset acquisition rules for improved investment return.
5. Name at least eight major tax-advantage investments using six basic management rules, and state the economic impact of accelerating deductions, postponing tax liability, and leveraging.
After studying the materials in Chapter 2, answer the exam questions 11 to 23.
ASSIGNMENT SUBJECT
Chapter 3 Preservation of Wealth
At the start of Chapter 3, participants should identify the following topics for study:
* Obstacles to preservation
* Tracking spending
* Building savings
* Designing a budget
* Determining worth
* Analyzing net worth
* Ignorance
* Inflation
* Taxes
* Tax planning tactics
Learning Objectives
After reading Chapter 3, participants will able to:
1. Recognize spending habits and show how to design a budget to increase discretionary income, define net worth using a balance sheet, identify an asset inventory listing liabilities, and state where changes could be made to meet financial goals.
2. State why individuals should take primary responsibility for the investment planning including necessary self-education, show the allocation of financial resources among investments to maximize return, recognize the impact of inflation, risk versus return, and name basic income tax planning tactics that can be used by clients to minimize taxes.
After studying the materials in Chapter 3, answer the exam questions 24 to 28.
ASSIGNMENT SUBJECT
Chapter 4 Deferral
At the start of Chapter 4, participants should identify the following topics for study:
* Elements of like-kind exchanges
* Related party exchanges
* Personal & multiple property regulations
* Delayed (deferred) exchange regulations
* Actual & constructive receipt rule
* Qualified contribution plans
* Tax-deferred annuities
* Installment sales
* At-risk rule
* Deferred compensation and options
Learning Objectives
After reading Chapter 4, participants will able to:
1. Name two benefits of tax deferral, outline the former use of tax deferral under §1034, and state the tax deferral advantage under §1031 listing its three elements.
2. List the related party §1031 restrictions identifying prohibited parties or entities and permissible disposition exceptions, state recommendations for the protection of exchange participants, and outline the history of the personal and multiple property regulations naming the unique personal property like-kind and netting requirements for multiple asset exchanges.
3. Outline the evolution of §1031 delayed exchanges identifying allowable transfers, show how to select replacement property within statutory deadlines, list four constructive receipt safe harbors, list methods to secure exchange party performance, and define the §1031 partnership underlying asset rule. Recognize how to design retirement plans following four basic steps, name two of the most popular methods for providing for retirement, and define near retirement investments.
4. State three requirements for an installment, show how to elect out of the installment method, list at least five variables affecting §453 availability. Illustrate how to use a property option to receive income and postpone tax.
After studying the materials in Chapter 4, answer the exam questions 29 to 43.
ASSIGNMENT SUBJECT
Chapter 5 Reduction
At the start of Chapter 5, participants should identify the following topics for study:
* Work Opportunity Credit & Rehabilitation Credit