Partnership Taxation 2018 - 24 CPE Credit Hours
Provisions for the taxation of partnerships are in §701 through §761. Underthese sections, the partnership files an information return (Form 1065). Its incomeand deductions flow through to, and are reflected on, the tax returns of thepartners (Form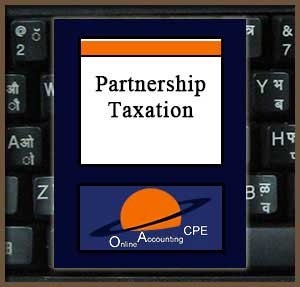 Base price with tax:
Salesprice with discount:
Discount:
Tax amount:
Price / kg:
The program will examine tax issues relating to the formation and operation of partnerships. Participants will gain a familiarity with basic areas of partnership taxation so as to recognize a problem and have at hand some practical knowledge for its solution. This course is presented in four practical segments: (1) the formation of partnerships, (2) the basic day-to-day operations of partnerships, (3) distributions of assets to partners, and (4) the termination of partnership affairs.
Completion Deadline & Exam: This course, including the examination, must be completed within one year of the date of purchase. In addition, unless otherwise indicated, no correct or incorrect feedback for any exam question will be provided.
Course Level: Overview. This program is appropriate for professionals at all organizational levels.
Field of Study: Taxes
Prerequisite: General understanding of federal income taxation.
Recommended Credits: 24 CPE Hours
Advanced Preparation: None
Learning Assignments & Objectives
As a result of studying each assignment, you should be able to meet the objectives listed below each assignment.
ASSIGNMENT SUBJECT
Chapter 1 Introduction
At the start of Chapter 1, participants should identify the following topics for study:
* Section 761(a)
* Husband-wife partnerships
* Limited partnerships
* Co-tenancies & joint ventures
* Partnership agreements
* Family partnerships
* Publicly traded partnerships
* Advantages & disadvantages
* Complete & partial exclusion elections
* Loss & year limitations
Learning Objectives
After reading Chapter 1, participants will able to:
1. Define a partnership for federal income tax purposes using §761(a) by:
a. Naming five important factors in deciding when a partnership exists including whether a co-tenancy qualifies as a partnership and identifying a husband-wife partnership pointing out the correct reporting of income and loss;
b. Outlining the liability of general and limited partners including how such liability might be contained; and
c. Listing four factors previously used to determine whether a business was a corporation or a partnership and the factors of the current check-the-box regulations.
2. Recognize the impact of partnership agreements on partners' shares of tax items, state the requirements of §704(e) for family partnerships, and list the pros and cons of partnerships to determine when the entity choice is appropriate.
3. Identify the complete or partial exclusion from partnership treatment under §761.
After studying the materials in Chapter 1, answer the exam questions 1 to 23.
ASSIGNMENT SUBJECT
Chapter 2 Partnership Income
At the start of Chapter 2, participants should identify the following topics for study:
* Partners taxed as individuals
* Separately treated items
* Deduction of losses
* Partnership tax return
* Special allocations
* Limitations on choice of taxable year
* Closing of partnership tax year
* Treating partner as stranger
* Guaranteed payments
* Certain losses disallowed & sales at gain
Learning Objectives
After reading Chapter 2, participants will able to:
1. Show the allocation of income and deduction among partners, identify when a partnership or its partners are subject to income or estimated tax, define self-employment taxes under §1402, and list at least three instances where partnerships are viewed as separate entities.
2. Name eight types of separately stated partnership expenses stating the character of such items and their deduction limitations, and recognize the §704(d) outside basis limitation and its impact on losses.
3. Recognize whether a partnership can elect to amortize certain business-related expenses, and list the key elements and requirements of the partnership tax return and the items of deduction to which individuals are entitled.
4. Define a partnership's year taxable under §706(a) so as to allocate various items of income and deduction from the partnership to the partners by:
a. Listing three instances when a partnership generally must conform its tax year to its partners' tax years and defining the least aggregate deferral of income for each partner whose tax year is different from the other partners;
b. Recognizing the availability of the natural business year including the §444 election as it relates to a partnership's tax year including its costs and/or benefits; and
c. Naming two major tax year termination events and at least three major non-termination events for a partnership.
5. Identify transactions between a partner and a partnership as being between a stranger and a partnership or as guaranteed payments.
After studying the materials in Chapter 2, answer the exam questions 24 to 56.
ASSIGNMENT SUBJECT
Chapter 3 Contributions to Partnerships
At the start of Chapter 3, participants should identify the following topics for study:
* Contribution vs. sale or exchange
* Precontribution gain or loss property
* Allocations as to contributed property
* Character of subsequent gain or loss
* Contribution of services
* Original and adjusted basis of partner's interest
* Effect of liabilities on outside basis
* Partner's share of partnership liabilities
* At-risk rule
* Passive losses
Learning Objectives
After reading Chapter 3, participants will able to:
1. Recognize the tax-free capitalization rules of §721 ensuring the partner is not taxed at the time of the formation of a partnership by:
a. Listing the differences between a contribution and a sale or exchange stating the treatment of transfers to investment company type partnerships; and
b. Identifying when the property taint rules apply to a contributing partner and naming three acceptable methods of allocation for precontribution gain or loss.
2. State a partnership's basis for contributed assets under §723.
3. Define the taxation of contributed services including strategies to avoid immediate taxation.
4. Identify the original basis of an interest acquired by contributing property and money under §722 and calculate adjusted basis.
5. Recognize a partner's loss deduction when two major limits on deductions of partnership losses apply by:
a. Defining amounts at risk under §465; and
b. Listing the three buckets of income under §469 identifying the impact of the passive loss rules.
After studying the materials in Chapter 3, answer the exam questions 57 to 79.
ASSIGNMENT SUBJECT
Chapter 4 Sales & Exchanges of Partnership Interests
At the start of Chapter 4, participants should identify the following topics for study:
* Corn Product Rule
* Importance of capital treatment
* Regulations on gain on sale of passthrough entities
* Exchanges & transfers
* Unrealized receivables
* Inventory
* Liabilities of partnership
* Inside basis after transfer of partnership interest
* Gifts
* Abandonment or forfeiture
Learning Objectives
After reading Chapter 4, participants will able to:
1. Define capital asset treatment on the sale or disposition of a partnership interest under §741 by:
a. Recognizing whether the Corn Products Rule applies and the reasoning behind the determination;
b. Listing the reasons why capital treatment is important and stating the impact of capital gain regulations on sales or exchanges of partnership interests; and