Who Commits Fraud and Their Methods - 2 CPE Credit Hours
This course will discuss the typical profile of an employee who is liable to commit corporate fraud as revealed by numerous studies. In addition, you will be provided with several types of common schemes which these criminals utilize to embezzle funds from their organizations. It will also provide you with various tips and techniques which may be utilized to prevent fraud from occurring in your workplace or those of your clients.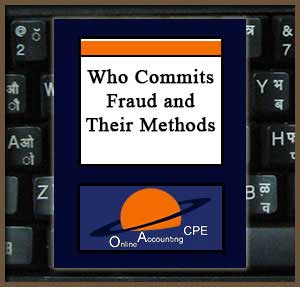 Base price with tax:
Salesprice with discount:
Discount:
Tax amount:
Price / kg:
Instant Download!
Delivery Method: Online Interactive Self Study
Level: Overview
Prerequisites: None
Recommended Credits: 2 CPE Hours
Advanced Preparation: None
Author: Colleen Neuharth McClain
Category: Auditing
Subject Area:
Passing Score: 70%
Publication Date: 06/28/2013
Objectives:
Recognize who commits the majority of corporate fraud cases within organizations.
Cite whether males or females are more likely to commit corporate fraud according to statistical data, and which are more likely to be responsible for the greatest losses.
Identify the most common schemes which those who commit corporate fraud usually utilize.
List some of the tips and techniques which you may employ to prevent corporate crime in your and your clients' workplaces.