Private Company Financial Reporting Update - 2 CPE Credit Hours
The differences in the financial reporting needs of private and public companies is a topic that has been studied at various times over the years. This course will provide an update on recent projects and activities focusing on private company financial reporting. As background for the update, the standard setting process will be reviewed.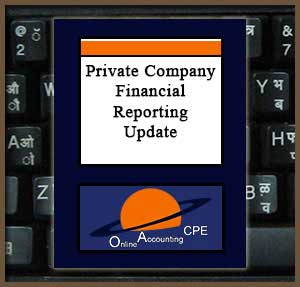 Base price with tax:
Salesprice with discount:
Discount:
Tax amount:
Price / kg:
Instant Download!
Delivery Method: Online Interactive Self Study
Level: Overview
Prerequisites: None
Recommended Credits: 2 CPE Hours
Advanced Preparation: None
Author: Colleen Neuharth McClain
Category: Business Management
Subject Area:
Passing Score: 70%
Publication Date: 09/06/2012
Objectives:
Identify the concerns and issues regarding private company financial reporting.
Understand the accounting standard setting process.
Recognize the various private company financial reporting initiatives that have occurred.
Understand the role of the Private Company Council and the FASB regarding private company standard setting.
Become familiar with IFRS, IFRS for SMEs and the considerations regarding U.S. companies use of IFRS for SMEs.