Retirement Planning for Expatriates - 3 CPE Credit Hours
This course will discuss the typical profile of persons who become expatriates. In addition, you will be provided with several important items to research such as housing, healthcare, and local taxation laws if you consider becoming an expatriate.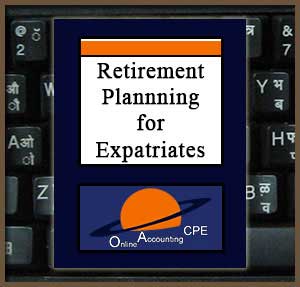 Base price with tax:
Salesprice with discount:
Discount:
Tax amount:
Price / kg:
Instant Download!
Delivery Method: Online Interactive Self Study
Level: Overview
Prerequisites: None
Recommended Credits: 3 CPE Hours
Advanced Preparation: None
Author: Colleen Neuharth McClain
Category: Financial Planning
Subject Area:
Passing Score: 70%
Publication Date: 02/25/2013
Objectives:
Understanding who becomes an expatriate and why?
Understanding the differences between temporary job transfers and self-initiated expatriation
Ability to do research and planning regarding retirement locale, immigration laws and fees, and comparing countries and towns
Analyze factors in choosing the best new home
Comparing Healthcare availability, quality, and costs
Weighing finances, benefits, and taxation
Determining what to take