Corporate Fraud Investigators - 2 CPE Credit Hours
As the primary agency investigating corporate fraud, the FBI has focused its efforts on cases which involve accounting schemes, self-dealing by corporate employees, and obstruction of justice to conceal fraudulent activities from criminal and regulatory authorities.This course will review the efforts being made by the FBI and several other federal corporate crime busting governmental bodies within the United States to prevent fraud.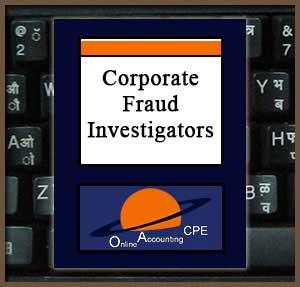 Base price with tax:
Salesprice with discount:
Discount:
Tax amount:
Price / kg:
Instant Download!
Delivery Method: Online Interactive Self Study
Level: Overview
Prerequisites: None
Recommeded Credits: 2 CPE Hours
Advanced Preparation: None
Author: Colleen Neuharth McClain
Category: Auditing
Subject Area:
Passing Score: 70%
Publication Date: 06/28/2013
Objectives:
Recognize some of the major organizations who have been working diligently to eliminate corporate fraud in the U.S.

Recognize the national statistics regarding corporate fraud in the United States.

List the general characteristics of the people who are most likely to commit fraud and how to better identify them as well as the most common types of fraudulent activities which are occurring in corporations today.

List the various types of schemes used to perpetrate misstatements on the financial statements and misappropriation of assets.